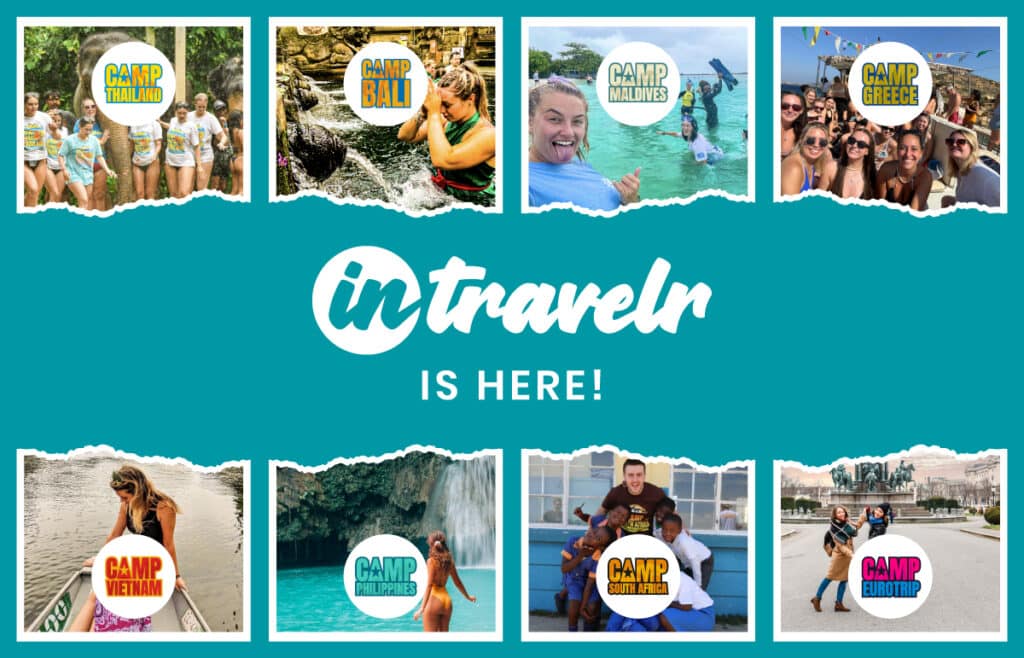 Hey everyone!
Today marks an extremely exciting day for all of us at Invasion and Intrax.
When two like-minded companies come together for the greater good, we wanted to showcase our new combined adventure and journey together.
So… together, as Invasion and Intrax, we have officially launched Intravelr!
Intravelr is now the home and umbrella brand for all of our exciting Camp brands, like Camp Thailand, Camp Bali, Camp Maldives, Camp South Africa & more!
Specialising in providing unforgettable experiences for the youth travel generation, we have a new, state-of-the-art website that is going to make travelling even easier than ever before.
Intravelr's core mission is to create life-changing experiences and cultural exchange opportunities. We offer a range of enriching experiences that have a focus on sustainability, travelling with care, and giving back to the communities we visit. Above all, it's about making a positive impact on everyone involved.
Why "Intravelr"?
A special feature of this brand is how it adapts and marries the "in" of both Invasion and Intrax collectively and thus a name created which perfectly reflects both companies' core mission to create life-changing experiences and cultural exchange opportunities around the globe.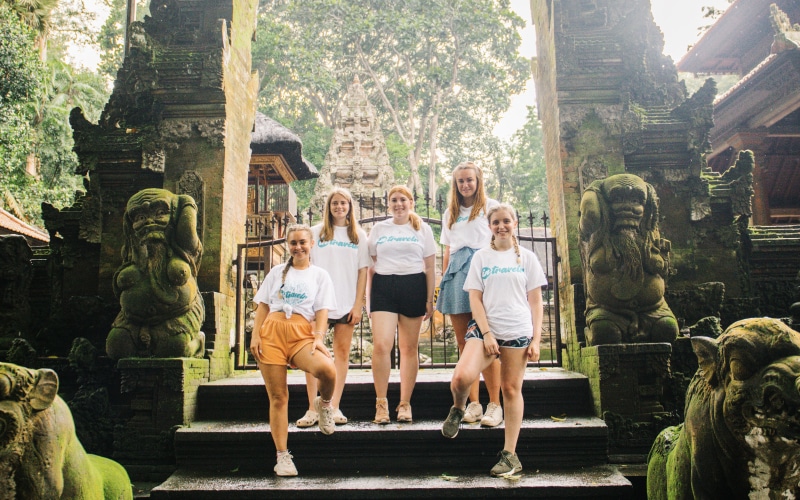 The 4 Pillars of Intravelr
Intravelr encompasses the ethos of both companies which has resulted in the creation of four key pillars.
Fun

Travel and fun will go hand in hand at Intravelr, with laughter being a crucial part of the Intravelr experience.

We don't just provide travel, we create experiences that are enriching, cultural AND fun – just ask our experienced reps, customers and partners.
Community

Our programmes bring together like-minded people within the Intravelr community in order to create a sense of belonging. 80% of our customers from brands within our own community are solo travellers when they first join, and they then make friends for life at Camp.
Culture

Cultural exchange is at the heart of Intravelr. Not only do our programmes offer the opportunity to experience authentic cultures, we also offer the opportunity for individuals and groups to give back through our volunteering programmes. We encourage participants to fully immerse themselves into the local culture on their trips – from cycling through the ancient ruins of Thailand to the breathtaking Gates of Heaven in Bali.

Our programmes are designed by travel experts to really allow people to immerse themselves in their local settings, creating life-lasting memories and a fondness that brings the world closer together through the true understanding of others.
Volunteer

Planting trees, working with animals, teaching English, and restoring beaches; our volunteering opportunities are vast and we want as many people as possible to get involved in our community projects.

The positive impact you make with Intravelr is sure to change the lives of others and your own!
With Intravelr you can specifically; teach English in schools, care for elephants and turtles, plant trees, restore beaches, and so much more.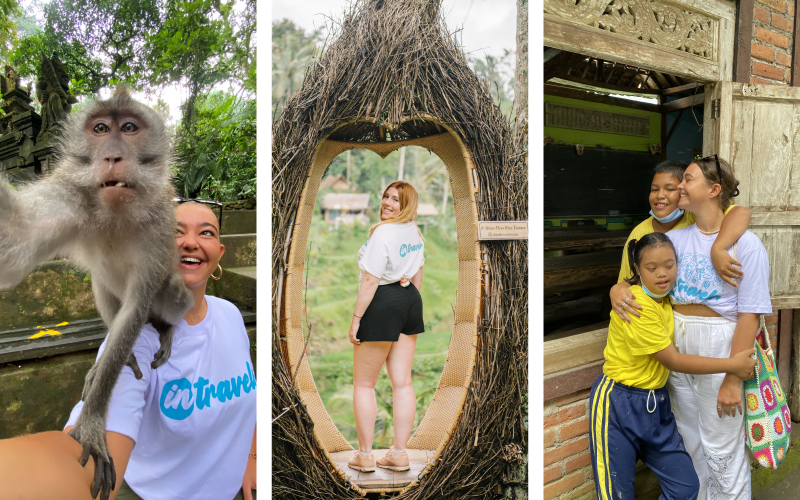 Overall
All of our programmes offer an experience like no other, something that is beyond travelling.
The impact you make through these programmes stay with you and those that you positively interact with.
With this incredible news in mind, we just wanted to thank all of our loyal customers, partners and our team, as we welcome you all collectively into the Intravelr family.
Together we will change thousands more lives for the better through truly life changing experiences. It's time to… Find Your Adventure.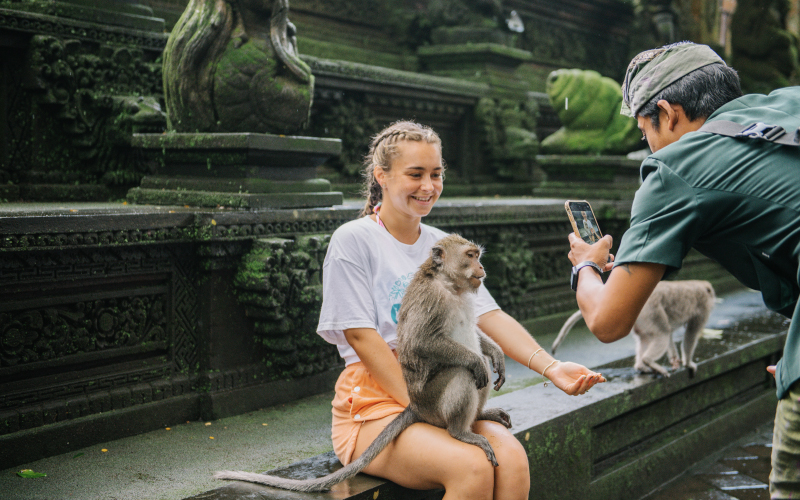 The Intravelr Team.
Find Your Adventure
Johannesburg Travel Tips: Ideal Post Camp Travel
Johannesburg is the biggest city in South Africa, with a population of over 1 million. It is also one of the top 50 largest urban areas in the world. This bustling destination should definitely be part of your post-camp travel! Check out our list of Johannesburg travel tips, including the best things to do whilst you're in the city.
Wildlife
Like many places in South Africa, Johannesburg offers a wealth of amazing wildlife tours. Embark on the safari tour to see some amazing animals in their natural habitat. You could be driving through herds of elephants, galloping alongside antelopes or even exploring lion territory!
History
South Africa has a long and interesting history in regards to its road to democracy. Johannesburg offers some key places that will open any traveller's eyes to this intriguing tale. A trip to Constitution Hill will allow you to see where the new heroes, Nelson Mandela and Mahatma Gandhi were imprisoned last century. Guided tours around the historical site are available, so you can get an expert explanation of all that occurred on the famous Coghill.
If you want to delve deeper into South African culture, the city holds some amazing museums. The Apartheid Museum shows the struggles of people of colour before South Africa became the diverse and accepting nation it is today. You could also visit the Planetarium, the Beer Museum or the Museum of Transport!
Sightseeing
If you're a fan of cityscapes, the Top of Africa should definitely be on your list of activities. From this towering high rise, you can see for miles over the expanse of Joburg and its surrounding areas. It's a perfect photo opportunity to show your friends at home in the city!
Once you've seen all that Johannesburg has to offer, why not further your adventure? Take a ride on the world-famous Gautrain if you want to visit other places in Gauteng province. It's a clean, comfortable way to travel around the province. It's the perfect way for you to extend your post-camp exploration!
Camp South Africa is a paradise for a sports enthusiast, presenting the opportunity to coach sports such as football, rugby and hockey in a beautiful country.
As the African sunset splashes, the sky with several shades of orange, South African citizens refuse to be deterred by the shrivelling sunlight, as they continue to satisfy their avid appetite for the sport.
A country entwined in a continuous web of sport, residents have mainly formed an affinity with rugby, cricket and football; the country continues to churn out a repertoire of sporting talent, with Brian Lara widely regarded as the King of Cricket and John Smit crowned the Relic of Rugby.
Coaches on the Camp South Africa programme can prepare themselves for an array of passionate sports fans during their stay, with each possessing an individual sporting preference.
However, in a world where football is universally adored, South Africa's influence within the Premier League has caught the imagination of many; thousands of youngsters take to the sun-stained streets and hone their footballing skills on pitiless pitches, baked solid in the flaming heat, temporarily assuming the identity of their idols, in the hope that one day they too can replicate the successes of their footballing heroes.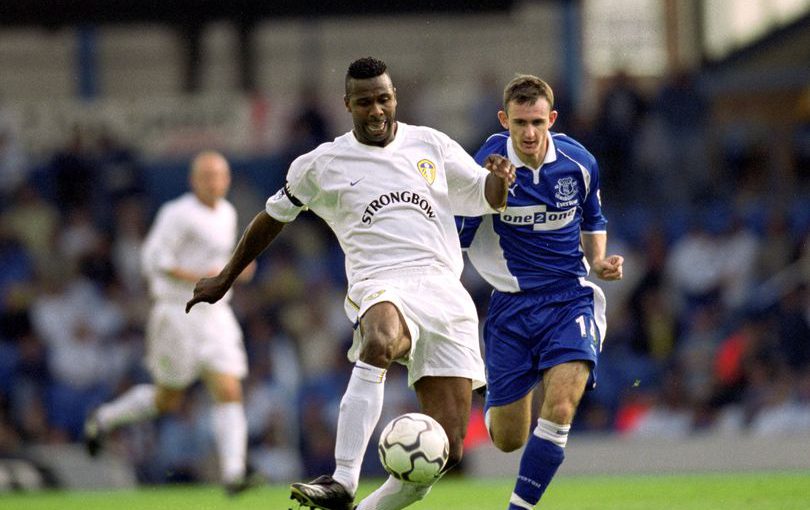 The initial trailblazer of South African football arrived in the English league in 1994, with flamboyant defender Lucas Radebe casting his anchor at Leeds United following a spell with South African side Kaizer Chiefs.
Arriving for £250,000 in relatively low-key fashion, Radebe established himself as a key figure at the club, a resolute defender who consolidated his reputation as one of the league's finest during his period plying his trade in the Premier League; Radebe's arrival would prove to be a watershed moment for African footballers, with an influx of talent following his trial in the coming seasons.
Following a botched transfer to Tottenham Hotspur due to work-permit complications, Quinton Fortune completed a dream move to Manchester United in 1999, subsequently cementing his place as the new symbol of South African football. During his time at Old Trafford, he won the Premier League, FA Community Shield and the Intercontinental Cup before departing for Bolton Wanderers in 2006 – the same summer, fellow South African Benni McCarthy swapped Porto for Blackburn Rovers, hot on the heels of his Champions League triumph under the stewardship of Jose Mourinho, with his brace in the second-round en-route to the final against Monaco instrumental in knocking out European giants Manchester United.
McCarthy's stay at Ewood Park was fruitful – he ended his maiden season in England as the league's second-highest scorer with eighteen domestic goals and an impressive total of twenty-four in all competitions. McCarthy moved to West Ham United in 2010 where he struggled, namely due to a series of fitness problems. Overall, however, he established himself as yet another success story to emerge from South Africa, along with silky Steven Pienaar of Everton and robust Aaron Mokoena, South Africa's most-capped international who enjoyed a stint in England with Blackburn Rovers and Portsmouth.
The pinnacle of the continent's affiliation with the beautiful game undoubtedly arrived in 2010, with the country bestowed with the honour of hosting the World Cup. Though the hosts would eventually succumb to elimination in the Group Stage after being drawn in a tough group comprising a Luis Suarez inspired Uruguay, skilful side Mexico and a widely backed France team, the Bafana Bafana caught the imagination with their brand of cavalier football.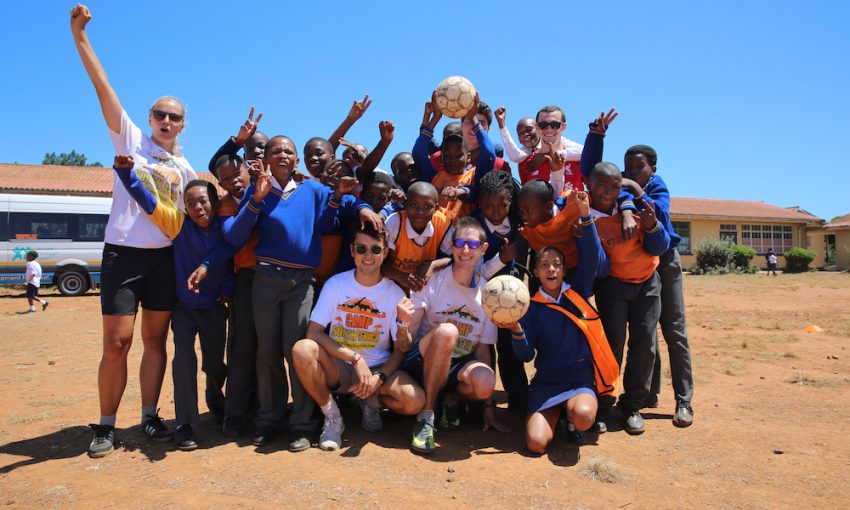 Whether youngsters aspire to mimic the success of their footballing predecessors or pursue success in an alternative sport, prospective participants on the Camp South Africa programme can look forward to coaching enthusiastic kids harbouring dreams of writing their own chapter in the ever-growing back catalogue of African sporting history.